{{ content }}
A&futura, SE180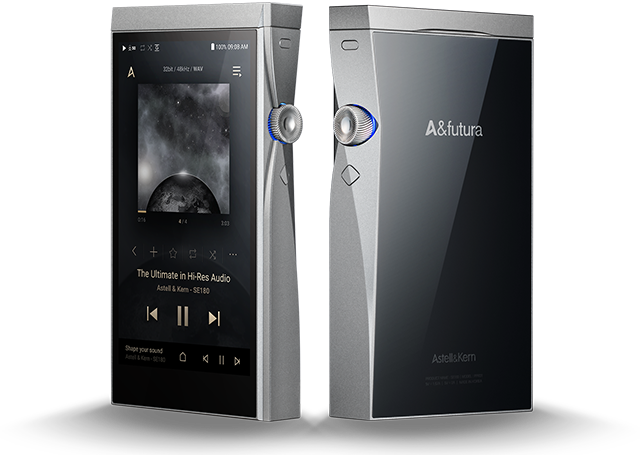 Interchangeable
All-in-One Module
Next Generation
AMP Technology
TERATON ALPHA
LDAC
aptX-HD
Full HD
Display
MQA
BT Sink
New
Navigation Bar
ROON READY
SE180 Combines Innovation and Fun
The third product in the A&futura line, the SE180, continues the trend of exciting innovation for Astell&Kern products,
while providing the uncompromised sound quality Astell&Kern is famous for.
With the SE180, in addition to superb audio technology, we wanted to show users an element of fun that is hard to find
in most Hi-Fi products.
The DNA of innovation found in the A&futura line continues with the SE180.
It is an advanced audio system created with the technology Astell&Kern is known for around the world.
Interchangeable All-in-One Module
TERATON ALPHA Audio Technology from Astell&Kern
Next Generation Astell&Kern AMP Technology
Updated UI with Added Functions for Convenience
With the SE180, premium Hi-Fi Sound is now available through the use of interchangeable, all-in-one modules, by Astell&Kern.
Interchangeable All-in-One
With the SE180, we wanted to expand on the multi-DAC idea that was first introduced with the SE200.
Like the SE200, different DACs can be used in one DAP, but we wanted to do something different for the SE180. The introduction of Interchangeable All-in-One Modules, carry on the multi-DAC experience, but add a new and fun experience. This reflects the DNA of the innovation that the A&futura line is known for.
The SE180 is a module-separated product that increases the convenience of connection between the main body of the player and the module. It features an innovative double-locking design that securely connects each component while providing smooth lines that naturally flow without any sense of separateness between the two pieces.
By applying different DAC/AMP configurations, adjusting tuning and outputs for each module, the user can choose the most suitable module for Premium Hi-Fi Sound.
The default configuration module contains the ESS ES9038PRO, an 8-channel DAC mainly used for premium home audio equipment. This DAC provides a wider dynamic range and more detailed sophistication. The module supports 2.5mm, 3.5mm and 4.4mm connections to allow for a greater variety of headphones/IEMs.
Circuit Separation Structure of Main Body and Module
By physically separating the main body from the All-in-One module,
we completely block power and RF noise that may occur from the main body.
This creates an independent structure that prevents noise from interfering with music playback.
MAIN
PMIC
MEMORY
POWER
OSC
CPU
XMOS
RF
Switch
BATTERY
Audio
Path
Connector
DAC Module
Connector
Audio
Path
Audio
power

ESS9038PRO
L+
L-
R+
R-
Switch
L+
L-
R+
R-
L+
L-
R+
R-
AMP
AMP
G
N
D
AMP
AMP
L+
L-
R+
R-
L
G
N
D
R
G
N
D
Balanced
2.5
Balanced
4.4
Unbalanced
Modules Double Lock for
Ease of Use
Modules Double Lock for Ease of Use
The biggest difference between the SE180 and other products that use interchangeable modules is that the SE180 uses a double-locking mechanism rather than screws to fasten the module to the body.
The first locking structure attaches the module and the body.
The second locking structure informs the user that the module has been securely fastened to the main body.
The spring supported internal connectors of the main body allow reliable audio signal connection and are used to prevent connection failure in case of external shock to the player when on the go.
Astell&Kern Audio Technology Forms
the TERATON ALPHA Sound Solution
AK ULTIMATE SOUND SOLUTION, TERATON ALPHA
TERATON ALPHA is AK's ultimate Sound Solution to produce audio playback that is close to the original sound through the audio output interface by use of effective power noise removal, efficient power management and amplification with minimal distortion.
TERATON ALPHA features Astell&Kern's patented technologies, which are the result of tens of thousands of hours of continuous research and development to produce sound close to the original sound the artist and producer intended.
Go to TERATON ALPHA >>
Next Generation Advanced AMP technology
It is extremely difficult push beyond your previous best.
With the SE180, we applied Next Generation AMP technology to push beyond the sound quality others feel is acceptable for Premium Hi-Fi Sound to produce the best sound possible.
From the selection of OP-AMP parts, to circuit design, board layout and tuning, everything has been completely redesigned to produce the best sound.
It is difficult to improve the Signal-to-Noise Ratio (SNR) while maintaining a high output.
Output/SNR comparison
Output/SNR comparison
Features
SE180
SE100
Product

Output Level
ES9038Pro Single
Output Level (Balanced)
6Vrms
4.1Vrms
SNR
129dB
123dB
* Based on condition no load, there may be differences depending on the measurement method.
Adoption of Full HD Display for
Improved Image Quality
The SE180 features a full HD screen to provide a higher quality display.
441 PPI
High pixel density
16.7M colors
Large color gamut
1920*1080
High resolution
Upgrades to Enhance the User Experience
Navigation bar for easier navigation
To provide more convenient movement through the player user interface that is consistent with an Android smartphone experience, the SE180 features a new navigation bar, the first in an Astell&Kern player.
Now you can easily navigate with a single touch and deliver music playback information from any screen. The new one swipe feature moves you to the previous screen.
AK File Drop to enjoy wireless transfers
The new AK File Drop function in the SE180 makes files transfers easier and more convenient.
Using AK File Drop, you can freely transfer files wirelessly through a PC, smartphone, or FTP program located on the same network.
Music file management is now possible with a cableless, wireless solution.
Wireless Hi-Fi Sound Through BT Sink
The newly introduced BT Sink function connects the SE180 to an external device via Bluetooth,
similar to connecting a smartphone with a BT speaker.
Music from an external device, such as a smartphone can now be played back in high-quality on the SE180 using the BT Sink function.
BT Connect (RX Mode/BT Sink)
BT Connect (TX Mode)
Real-Time Information Confirmed by Light
The SE180 features a LED volume wheel which displays various playback information, including volume level and
bit-rate of the track currently playing.
* LED can be turned on or off according to user setting.
LED Lighting Off
16bit
24bit
32bit
DSD
Equipped with Bluetooth 5.0 and Support
for Wireless 24-bit aptX-HD, LDAC Codecs
The latest Bluetooth version provides high sound quality with the convenience of wireless playback to headphones and IEMs.
Bluetooth 5.0 features faster transmission speed, greater range and a more stable wireless connection when compared to Bluetooth 4.2.
Both LDAC and aptX HD is supported to provide audiophiles with the best wireless sound possible.
MQA (Master Quality Authenticated) is an award-winning British technology that delivers the sound of the original master recording.
The master MQA file is fully authenticated and is small enough to stream or download. Visit mqa.co.uk for more information.
Astell&Kern SE180 includes MQA technology, which enables you to play back MQA audio files and streams,
delivering the sound of the original master recording.
The MQA logo is a trade mark of MQA Limited.
© MQA Limited 2016
Qualcomm aptX is a product of Qualcomm Technologies, Inc. and/or its subsidiaries.
Qualcomm is a trademark of Qualcomm Incorporated, registered in the United States and other countries.
aptX is a trademark of Qualcomm Technologies International, Ltd., registered in the United States and other countries.
LDAC and LDAC logo are trademarks of Sony Corporation.
Roon Ready network players
Roon Ready network players from our partners have Roon's high-resolution streaming technology built right in.
They combine simple setup, daily reliability, and support for the highest level of digital audio performance in the industry.

Every Roon Ready player is certified by Roon to guarantee the same stellar experience, regardless of its manufacturer, its price, or its features.